Whether the job market is booming or lukewarm, the best marketers will always have opportunities to up-level their career with a new employer should they choose. A bad day, week, or – gulp – month at work can inspire anyone to take a peek at job ads (or respond to the many messages from headhunters filling their inbox). And, with sites like Glassdoor and Comparably overflowing with candid conversations about company culture, total compensation, benefits and more, mild dissatisfaction can quickly turn into a full-on case of the-grass-is-greener-elsewhere-itis.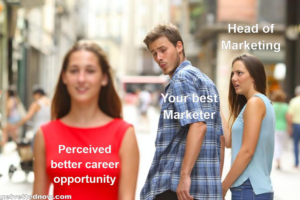 Of course, retaining top marketing talent is key to any organization's short- and long-term success. So, what do you need to do to keep marketers happy and engaged?
In February 2023, we conducted a survey of marketing professionals, asking them what
mattered most when they were considering a career move. The results were enlightening and just as relevant to retaining talent as attracting talent. We discovered which benefits mattered most to marketers. The insights gleaned can help you make sure your retention game plan gives you the best odds of success.
Flexibility – ability to work remote & a generous paid time-off policy – is the #1 thing marketers want.
We found remote work was – by far – the most valued of all benefits. Before Covid, remote work was the exception; the fact that working remotely came out on top in our survey shows how remarkably the workforce has changed in a short timeframe. It is clear and worth repeating: the opportunity to work remote, either fully or partially, was the clear winner when it comes to being The Most Important Thing marketers look for from an employer. And this fully aligns with what we hear from candidates every day.
The fact that "a more robust paid time-off policy" was also at the top of the list wasn't a surprise, as it  mirrors recent news. A byproduct of the pandemic has been a re-evaluation of life's priorities leading to a greater emphasis on time to recharge.
Vetted tip: If your company is not offering employees at least some opportunity to work remotely, it is at a distinct disadvantage when it comes to retention. With so many other companies offering remote work, it is easier than ever for marketers to find a new job that comes with flexibility. All that said, we encourage companies to embrace a full or partial remote-work policy, whether company-wide or for their marketing team.
Money. Believe it or not, monetary benefits – health insurance, 401k, & tuition reimbursement – came in 2nd.
Money always matters and, as the saying goes, more is better than less. Of course, you'll want to be sure you are paying your marketers competitively (our Salary Guide can help with this) to reduce the odds they'll be wooed simply by more money. But the biggest eye-opener from our survey was that remote work and paid time off now weigh more heavily when it comes to what marketers want most. 
Vetted tip: While we believe flexibility is going to have staying power at the top of the list of marketers' wants, salary & benefits will never be too far behind. Be sure to stay as current as you can with market-competitive salary ranges for different marketing roles by reviewing salary survey data from companies like Payscale, or industry associations (like the American Marketing Association). And, consider implementing merit-based raises or bonuses for your top performers. On the benefits front, low or no-cost health insurance and 401k matching are usually the most valued perks.   
Engagement. A more challenging role, more dynamic team environment, and more potential for career advancement are all important, yet came in 3rd.
While engagement was lower on the list of marketers' wants, it is very much worth noting that active job seekers cited a desire for a more challenging role and/or more opportunity for advancement as a primary reason for looking for change. So, you'll want to make sure your marketing team is feeling challenged and has real opportunity for promotion in order to maximize your odds of holding on to them.
Vetted tip: Keep your top marketers engaged and happy by investing in them. Offer  opportunities to take on new projects or people management. Get them into role-specific training or professional development programs. Mentor them and show them a clear path forward that aligns with their career goals. Illustrate how their role and the impact they have in it ties directly into company goals.